The Event Room in Fort Walton Beach recently had the pleasure of hosting a Baby Shower. The baby shower was for LeeMarie from Los Angeles and her new-coming baby, Lula. LeeMarie's mom is a local, and she arranged the event for her daughter and new grandbaby. There are so many exciting things about having a baby. Celebrating the baby's arrival with your closest family members and friends takes the cake. At the Event Room, we host a variety of private events. These events include Baby Showers, Weddings, Receptions, Office Parties, Birthday Celebrations, and much more.
Lula's Baby Shower
LeeMarie came from Los Angeles to have her baby shower for baby Lula.  Their colors were ivory, pink, and gold. They chose rose centerpieces for their decor. We work with you to determine your theme and colors and then accommodate your needs accordingly. Our Event Planning includes a variety of services depending on your design style and number of guests. We offer catering, a DJ, florist, baker, and bartender if it fits your needs. Read our previous blog, Baby Showers Hosted By The Event Room to learn more about hosting your Baby Showers at the Event Room.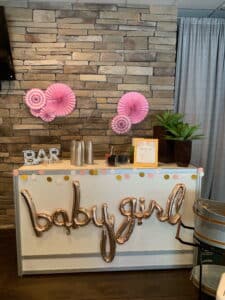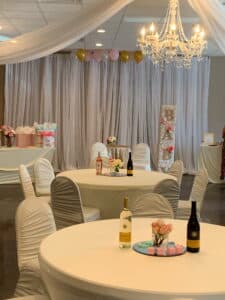 Meet Our Event Planner
LaShana is an Executive Event Planner. She enjoys working with you to make your event everything you desire. Her passion comes through in every event she helps plan and facilitates. The Event Room is the premier event venue in Fort Walton Beach, Florida. We are conveniently located on Hulbert Road with quick access to the coast and plenty of parking. If you are ready to plan your private event, Contact Us to set up an appointment. Keep in touch with us by following us on Facebook and Twitter. Don't forget to share our blogs and social media pages with your family and friends.